Matthew 17:1-9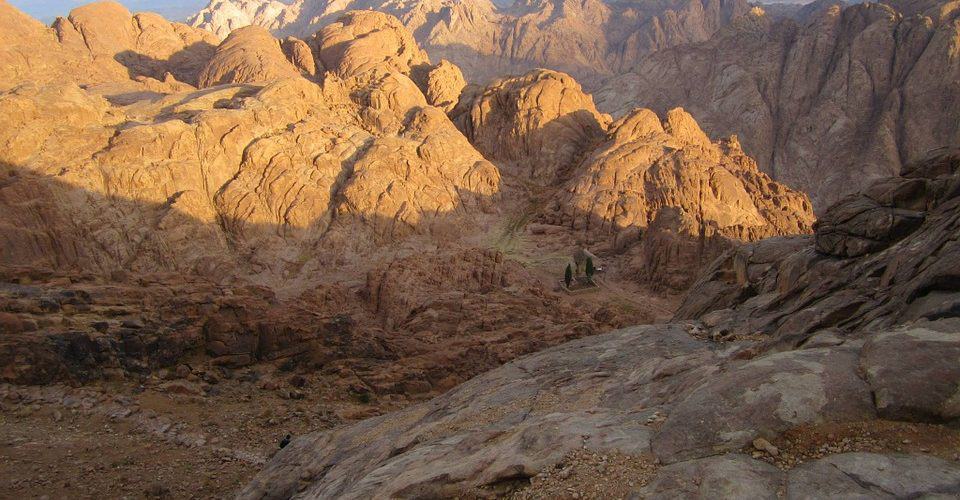 17 And after six days Jesus took with him Peter and James, and John his brother, and led them up a high mountain by themselves. 2 And he was transfigured before them, and his face shone like the sun, and his clothes became white as light. 3 And behold, there appeared to them Moses and Elijah, talking with him. 4 And Peter said to Jesus, "Lord, it is good that we are here. If you wish, I will make three tents here, one for you and one for Moses and one for Elijah." 5 He was still speaking when, behold, a bright cloud overshadowed them, and a voice from the cloud said, "This is my beloved Son, with whom I am well pleased; listen to him." 6 When the disciples heard this, they fell on their faces and were terrified. 7 But Jesus came and touched them, saying, "Rise, and have no fear." 8 And when they lifted up their eyes, they saw no one but Jesus only. 9 And as they were coming down the mountain, Jesus commanded them, "Tell no one the vision, until the Son of Man is raised from the dead."

Matthew 17:1–9 (ESV)
---
The Transfiguration
Six days after telling His followers that they must take up their cross and follow Him, Jesus took Peter, James, and John up a mountain (Matt. 17:1). On top of the mountain, the disciples witnessed Jesus becoming transfigured to have a radiant face and clothes that were a white, brilliant light (Matt. 17:2). The followers then saw Moses and Elijah speaking with Jesus, which prompted them to offer to build a tent on the top of the mountain for each of them (Matt. 17:3-4). After making this offer, a bright cloud appeared over them, from which a voice called out, saying, "This is my beloved Son, with whom I am well pleased; listen to him." (Matt. 17:5). Hearing this voice call out to them, the followers became terrified and fell on their faces (Matt. 17:6). Seeing the fear in the followers, Jesus said, "Rise, and have no fear." (Matt. 17:7). Upon looking up, the followers no longer saw Moses and Elijah, but Jesus alone (Matt. 17:8). Jesus and the followers began to descend the mountain, and He commanded them, "Tell no one the vision until the Son of Man is raised from the dead." (Matt. 17:9).
Synoptic Analysis
The number of days, between the command to "take up his cross and follow me," (Matt. 16:24) and the ascent up the mountain is agreed upon in the accounts of Matthew and Mark as six (Matt. 17:1; Mark 9:2); however, Luke contains a discrepancy as stating about eight had passed (Luke 9:29). Matthew and Mark may intend the six days as an allusion to Moses on Sinai, where a glory cloud covered the peak.[1] While Luke loses this connection in numerating eight days, the discrepancy can be explained through a difference in how the days were counted. Another suggestion is that Luke translated the length of a Judaic week of six days, into a Hellenistic week of eight days. Therefore, the difference is accounted for by using the word "about" to show an approximation of one week.[2]
All three of the Synoptic gospels contain the evidence that Jesus truly is the Christ, the son of God. Further, God commands them to listen to His Son, but only Matthew contains the phrase "whom I am well pleased." (Matt. 17:5). As this pericope follows Peter's declaration that Jesus is the Christ, this event has an increased weight of importance, for it validates Peter's statement. In this passage, the Synoptics agree that God commanded them to "listen to Him" (Matt. 17:5; Mark 9:7; Luke 9:35) and appear to parallel Deut 18:15 intentionally.[3]
Application
While Peter wanted to build tents for Elijah, Moses, and Jesus on top of the mountain, he was frozen in fear as the Spirit of God laid upon them. It is not always necessary for action to take place, but instead, observation and worship can be what is necessary. There is no reason for the faithful to fear circumstances, for God approaches them with His love, mercy, and grace. Bask in His presence, and His ordained will becomes clear. Sometimes, He wants us to learn from Him so that we may grow in our spiritual lives and our faith.

---
[1] R. T. France, The Gospel of Matthew, The New International Commentary on the New Testament (Grand Rapids, MI: Wm. B. Eerdmans Publication Co., 2007) 645.
[2] Robert H. Stein, Luke. Vol. 24. The New American Commentary (Nashville: Broadman & Holman Publishers, 1992) 283.
[3] Donald A. Hagner, Matthew 14–28. Vol. 33B. Word Biblical Commentary (Dallas: Word, Incorporated, 1995) 494.
Latest posts by Gordon Bland
(see all)